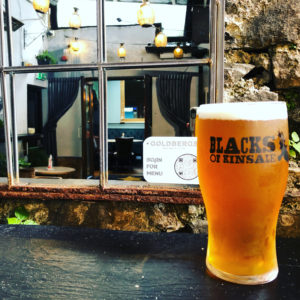 Well, for a long weekend, that is. We had planned a trip to Cork last year, but it had to be cancelled when the second lockdown began, so it was very much an overdue visit. For those keeping score at home, we moved to Dublin in February of 2020, and, of course, Things Happened, so those expected short jaunts across Europe and trips back to visit family in the US never happened; we've only managed to leave Dublin once before as a family, with a trip to Kilkenny during the Lockdown Interregnum. In short, we haven't had the opportunity to explore much of Ireland since arriving here, especially as many places are not accessible via public transit, though that's another story, so it was *
very
* exciting to be back on a train (I LOVE TRAINS).
For those outside Ireland, we are still very much a masked society (I shudder to think how many recently-formed emo-jazz-baroque combos have called themselves Mask'd Society), so there was nothing especially unusual about masking up for the bus and train or shops, though for the adults in my group, our fully-vaccinated status now means we can drink and dine indoors in some places, which is, to say the least, both rather exciting and a bit worrying. In theory, we can bring the offspring in to many places for dining, but we're not up for that yet, so it meant we aimed to book as much outdoor-but-sheltered dining in Cork as possible – and, as it turns out, Cork has done a great job of closing streets for outdoor food and drink, with well-secured tents and awnings, in a way that has not happened on the same scale in Dublin (or, perhaps more accurately, in as concentrated a way in the city centre – maybe?). And while we only had relatively brief time periods of more torrential rain, there was, unsurprisingly, plenty of wind, so some form of cover was key.
Traveling with kids during a pandemic – even low-key, local travel – is an odd mix of booking ahead and leaving things as flexible as possible; it's a guessing game in terms of what will and won't be open, what needs to be planned well in advance and what can be done more spontaneously (and who is going to be unreasonably grumpy). This isn't a complaint, as we are very fortunate to be fully vaccinated, and to have at least one child halfway there, with one jab done – the other isn't yet old enough – and to take the break from work during a less-busy time, but it does mean it's wise to not get too wrapped up in any particular sight or activity as a must-do (looking at you, swimming).
The Journey
Although we're out of practice at getting people out the door, we had no issues here; the train trip was made even more pleasant by scoring a copy of
Chat: It's Fate!
in the station; clearly, it was meant to be. In a nice bit of synergy, my copy of
Take a Break: Fate & Fortune
arrived at my home when we got back. Written in the stars, no doubt.
The Hotel
We stayed at the 
Clayton Hotel Cork City
, which proved to be very handy. The hotel choice was driven by 1) walkability and 2) an indoor pool, as the smaller child was absolutely set on getting to swim. The hotel did a great job of social distancing, keeping things clean and airing out rooms, and people all wore masks in most of the public areas. It was a little tricky to book pool slots – they were all gone by the time we arrived – but they had a good system to call down to see if there was space from no-shows, etc. – and we managed to find space more often than not. I had no trouble getting into the gym, and being back in a hotel gym for the first time since March of 2020 was – for a weirdo like me – thrilling, even if it meant working out in a mask.
The Food
We did the must-do tourist thing and hit the English Market on a weekday, and it was still fairly crowded, though not uncomfortably so. Unsurprisingly, hipster popsicles were among the top discoveries there (I mean, we knew there was CHEESE), though we kept returning to
Swoon
for dessert milkshakes (yogurtshakes?) outside the market. We had our first dinner in Cork at
Goldberg's
, where they have set up a gorgeous indoor-but-outdoor courtyard, and the food and service were excellent. We have been told on numerous occasions that
Pompeii Pizza
at Franciscan Well is the best in Ireland, and I'm not sure it beats 
Rascals
for that, but it was very good indeed, and well worth the wait.
Coqbull
was another dinner spot we all enjoyed, with the burger, especially, winning high marks.
Sitting in the liminal space between food and drink (OK, not really, but I needed a transition), we stopped in at Loose Leaf, a delightful little tea shop. We've ordered online from them before in an effort to buy from Irish tea shops – it's much more difficult to find good tea than it should be in Ireland, but, like public transit, that's another story – and had a great visit, sniffing (through masks) and buying up many, many samples.